Information
To enjoy golf simply.
18 holes through-play is our standard.
Course Guide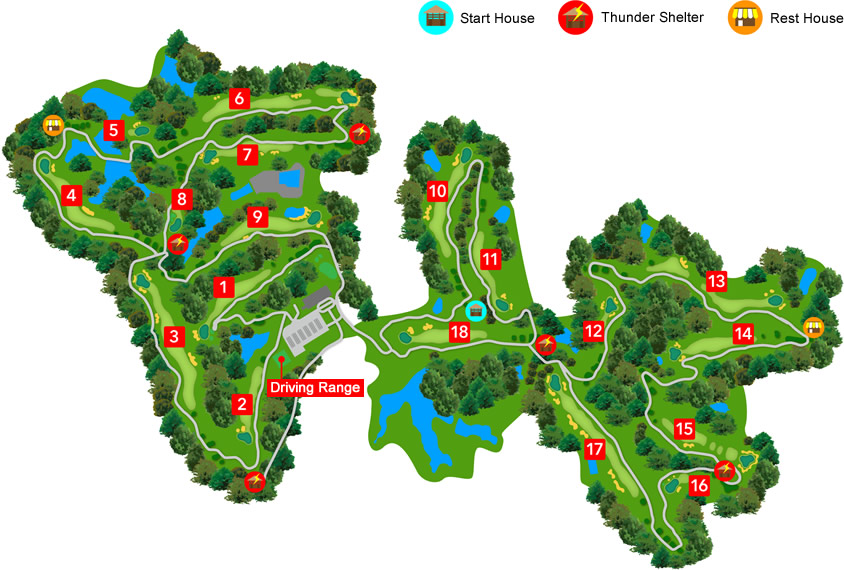 Guide of
Booking
Arrival
Arrive at least 30minutes before your tee time.
Bring your caddie bag to the bag storage with lock function in the club house.
Check-in
Make a payment for play fee first by the automatic ticket machine before check-in.
The payment should be done in cash only.
We don't accept credit cards.
Rocker Room & Valuables
Put your valuables in the safety box or check your valuables
at the front desk after changing your clothes at the locker room.
Use your locker key holder as a coin purse.
Start Playing
Check your cart number at the monitor in the bag storage and
load your caddie bag into the indicated cart.
Enjoy Playing
Enjoy playing with a golf cart that has the latest tablet type navigation system.
You can chose any tee mark from Black, Blue, White, Red and Pink.
Cafe
Let's have a break before tee time or after 9holes
at "Four Quarter Cafe" and enjoy our vaunted hot dogs and spam rice balls.

Hole Out
Unload your caddie bag from the golf cart by yourself.
Also check and clean your clubs by yourself.
Dining
Come over to a popular pasta shop "RYU·RYU Rezzo"
on the second floor in the clubhouse.
Enjoy many kinds of pastas
and many kinds of pizzas,butter rice and desserts.

Have a safe drive back home!
Return your locker key into the key drop before leaving the clubhouse.
Contact us
Booking

0794-76-5050
(+81-794-76-5050)

Address : 290-4 Jitsuraku, Yokawa-Cho, Miki-City, Hyogo 673-1106
Phone : 0794-76-5050 (+81-794-76-5050)
Fax : 0794-76-5055 (+81-794-76-5055)